Excellence in
Ground Station Engineering
Antenna Engineering
Callisto has been providing support to ESA for a number of years in engineering projects associated with ground station antennas. Described below are a few examples of the projects we have been involved in.
Pointing Calibration System
The objective of the Pointing Calibration System is to measure the angular deviation of the antenna RF boresight due to deformations of the reflecting surfaces induced by gravity and thermal effects. This is important for large antennas used for tracking interplanetary spacecraft as the antenna beamwidth is very narrow and the antenna structure very large. The method of pointing calibration is to locate radiostars using a very sensitive radiometer connected to the antenna. As the positions of radiostars are known to a good level of accuracy, then the deviation of the antenna boresight from the mechanical axes positions can be measured. However, the deformation of the antenna changes with elevation angle, heating of the structure by the sun as well as wind speed and direction. A complex measurement system is required to characterise the antenna pointing errors over the full antenna tracking range and then apply compensation corrections in real time during a satellite pass. Callisto engineers have been responsible for the development of software routines for antenna scanning and beam finding algorithms as well as integration and validation of the complete Pointing Calibration system.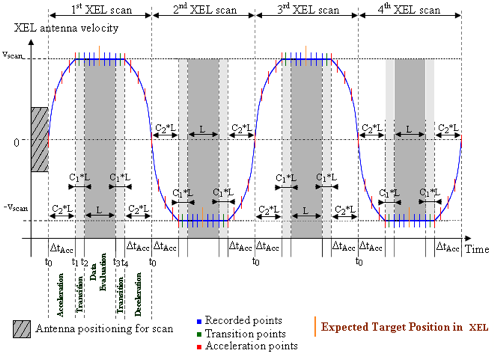 Antenna Simulation
Commercial software such as TICRA's GRASP™ and OSU NECREF™ are used widely to simulate the key parameters of antenna performance such as gain, beam squint and near/far field radiation patterns. Callisto engineers have undertaken analysis of large diameter antennas using techniques of geometrical optics (GO), physical optics (PO) and Gaussian beam theory with GRASP. In addition specific in-house codes have been developed to optimise performance by shaping the Cassegrain reflectors and appropriately dimensioning the beam waveguide mirrors and dichroics. Extensive PO analyses of ESA's Deep Space Antenna 2 (DSA2) Beam Waveguide were undertaken in order to validate the design. Various configurations of the DSA2 main and sub-reflectors have been synthesized in order to increase the performance of the system.

VIL-4 12m Antenna Upgrade to Ka band
A 12m antenna located at ESA's Villafranca ground station operated in C Band for over 15 years supporting the MARECS satellite. At the end of MARECS operations in 2002, ESA decided to upgrade and re-band the antenna to work in X and Ka-bands so that it could be used to support the SMART-1 mission. As SMART-1 was the first ESA scientific mission to use Ka-band, the VIL-4 12m antenna was also designated as a test bed for validation of a number of new systems for high frequency antennas. Callisto engineers have supported the upgrade of the VIL-4 antenna as well as the test and validation of new systems. These tasks have included:
Preparation of system specifications and work plans.
Monitoring of contractors supplying antenna RF components.
Supervision of on-site installation and commissioning activities.
Simulation of antenna near-field and far-field patterns to verify near-field test data.
Support for the development and installation of an antenna measurement system using holography techniques.